//product.hstatic.net/1000328919/product/i-lap-rap-3d-den-thien-duong-template-of-heaven-metal-mosaic-mp615__1__6a145716067949a2a1d763decec64c9f_1024x1024.jpg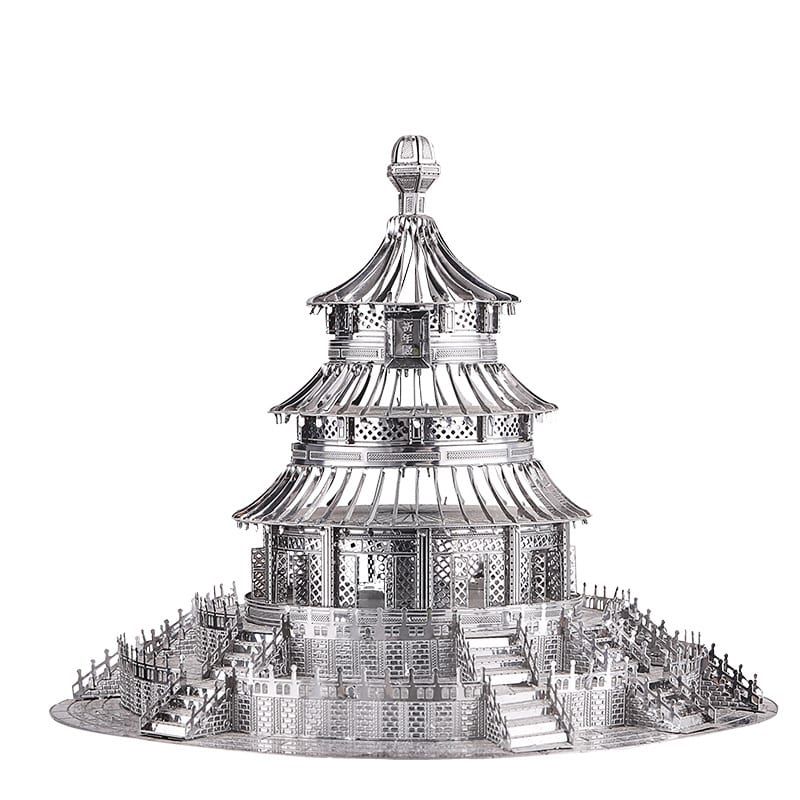 //product.hstatic.net/1000328919/product/i-lap-rap-3d-den-thien-duong-template-of-heaven-metal-mosaic-mp615__1__6a145716067949a2a1d763decec64c9f_1024x1024.jpg
//product.hstatic.net/1000328919/product/i-lap-rap-3d-den-thien-duong-template-of-heaven-metal-mosaic-mp615__2__97ac727946ab44e3bbd9883e9bdeb525_1024x1024.jpg
BẠN CÓ MUỐN NHẬN QUÀ KHUYẾN MÃI KHÔNG?
Giới thiệu: Đền Thiên Đường là một đế chế phức tạp của các tòa nhà tôn giáo nằm ở phía đông nam của trung tâm Bắc Kinh. Khu phức hợp đã được các Hoàng đế của triều đại nhà Minh và nhà Thanh đến thăm để làm các nghi lễ hàng năm cầu trời cho một mùa màng bội thu. Đền Thiên đường được UNESCO công nhận là Di sản Thế giới vào năm 1998 và được mô tả là "một kiệt tác về kiến ​​trúc và thiết kế cảnh quan, minh họa một cách đơn giản và bằng hình ảnh về một vũ trụ quan có tầm quan trọng to lớn đối với sự phát triển của một trong những nền văn minh vĩ đại trên thế giới ..." như "cách bố trí và thiết kế mang tính biểu tượng của Đền Trời đã có ảnh hưởng sâu sắc đến kiến ​​trúc và quy hoạch ở Viễn Đông trong nhiều thế kỷ.
Mô hình kim loại 3D chất liệu được làm bằng thép được cắt ghép thành từng mảnh.
Mô hình mô phỏng chi tiết Temple Of Heaven (Đền Thiên Đường).
Thiết kế độc đáo giống đến 90% nguyên bản.
Mang lại sự trải nghiệm cực kì thú vị khi tự tay lắp ghép các tuyệt tác.
Dùng làm vật trang trí, quà tặng độc đáo.
Chất liệu bền đẹp, thách thức thời gian.
Phù hợp với trẻ từ 14 tuổi trở lên, trẻ nhỏ tuổi hơn thì nên có người lớn hướng dẫn lắp ráp chơi cùng.
Dụng cụ-Phụ kiện cơ bản cần có: Kềm Cắt + Kềm Nhọn.
Có hướng dẫn lắp ghép mô hình chi tiết, dễ hiểu.
ĐÁNH GIÁ SẢN PHẨM
đánh giá sản phẩm-Phúc Lê - 10/01/2021 15:39:32 PM
Lắp lên đẹp hơn tưởng tượng luôn. Shop ship siêu nhanh và bọc chắc chắn. Sẽ ủng hộ shop dài dài nha
https://product.hstatic.net/1000328919/product/i-lap-rap-3d-den-thien-duong-template-of-heaven-metal-mosaic-mp615__1__6a145716067949a2a1d763decec64c9f.jpg